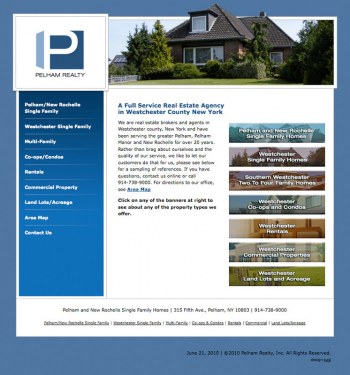 We were sought out by Pelham Realty, Inc., to provide advice and expertise on SEO. We created a family of CMS websites to take full advantage of the separate types of realty handled by the broker. Each site is a fully optimized, complete website with all content specific to the Real Estate being presented.
The sites, seven in total, share only minimal content between them. Some list properties specific to Pelham Realty exclusively while all of them list MLS listings. Each site is a separate CMS so there is a way for our clients to update as often as they wish.
The sites are found easily in searches for real estate throughout Westchester county and its communities. If you are in the market for single or multiple family homes, apartments, acreage, commercial warehouse space, or a storefront, take a look on the web and you'll surely find one of the Pelham sites.